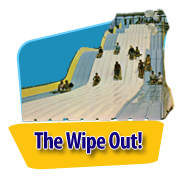 Morey's Piers' first attraction, the Wipe Out! giant slide, has been a Wildwood staple since it debuted back in 1969.
The ride will soon be dismantled to make way for new attractions, but commemorative pieces of the slide are now being offered to the public for $50 a section.
Proceeds will be donated to the International Association of Amusement Parks and Attractions archive preservation fund.
For ordering information, click
HERE
.